Pauvre Roger !!
A downloadable game for Windows

Everything was going well for Roger and his fellow helpers of Santa Claus. Everything went wrong when Santa came back furious from his last trip and decided to take on all his elves.
Take control of Roger in his fight to escape Santa through a workshop that is more than dangerous.
The project has been made by a group of 8 students during 3 months.

Tout se passait bien pour Roger et ses amis lutins assistants du père Noël. Tout dérapa lorsque Père Noël revint furieux de son dernier voyage et décide de s'en prendre à tous ses lutins.

Prenez le contrôle de Roger dans sa lutte pour échapper au Père Noël à travers un atelier qui se révèle plus que dangereux.
Le projet a été réalisé par un groupe de 8 étudiants de 3e année durant 3 mois.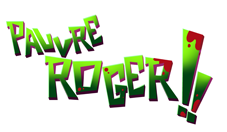 Pauvre Roger !! has been made by :
Sophie Maleval - Project Manager / Art Director
Florient Theunissen - Game Designer
Juliette Deprez - Game Artist
Grégoire Minsé - UI /UX Designer
Maxime Demullier - Game Artist
Charles Wandewoestyn - Game Artist
Install instructions
Dézippez le projet et double cliquez sur le fichier exe
Comments
Log in with itch.io to leave a comment.
How do you unlock new chapters? Cause I finished Chapter 1 (barely) but Chapter 2 is still locked.
Hello, I'm Florient, GameDesigner of PauvreRoger.

Unfortunately, you can not access to chapter two and more, because this is a prototype !

Hoping you enjoy it anyway ! :)



WHAT? That is.... I feel betrayed. Joking of course.I did like it, except for that last hurdle with the many moving saws. That was just cruel. :)